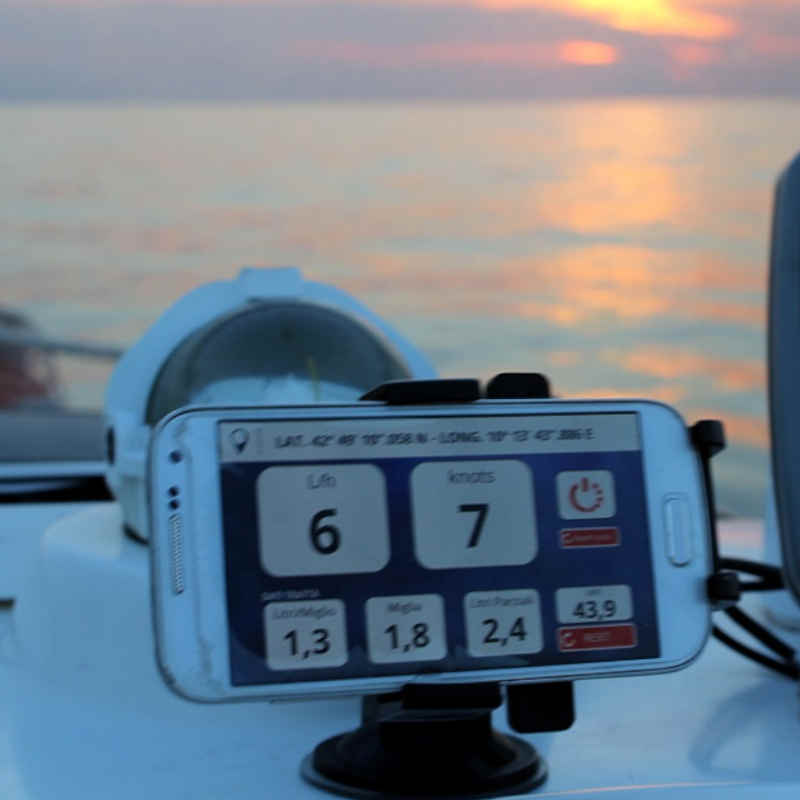 Monitoring the consumption of our boats offers many advantages. Some are easy to understand: check how much fuel we have consumed in a specific route; make a quick breakdown of expenses for a boat trip among friends who must then share the costs of gasoline, such as a wakeboard session or water skiing; it is important, then, to be able to immediately notice a possible sudden increase in consumption, which gives us the sign of an engine with a mechanical failure, which can be caused by a simple malfunctioning spark plug, transmission problems, a broken  lambda probe and more. Another advantage can be the ability to make an exact estimate of the fuel needed for a given journey, which allows us to load only the necessary gasoline including reserve for any unforeseen events. Let's not forget the storage that rents these vehicles and which is thus facilitated the exact calculation of the costs of the fuel used to be charged to the renter, you can buy a single control unit and monitor the entire fleet.
The Technological Offers to understand how much a boat consumes are mainly three:
the first is provided only in new generation engines, is not exportable to other boats and consists of an indicator connected to the engine with proprietary connectors;

the second method involves a flow meter inserted into the fuel circuit that sends the data to its instrument installed in the console.

The third system is based on the NMEA 2000 (National Marine Electronics Association) network based on the Controller Area Network (or CAN bus) protocol: in this case, however, the engine must provide this function and you must have an instrument that reads this data; it is also an expensive system because it is necessary to wire an NMEA 2000 network and have an instrument (which is sold separately) to be connected, so that it can make the data entered into the network by the engine usable. Another solution is to buy a nautical flow meter to be connected to the network and have the data on the instrument.
NaviFlow to check how much a Diesel And Gasoline boat consumes 
 NaviFlow is a very convenient and easy-to-install monitoring system
The advantages of NaviFlow are many,  simple installation, cost-effectiveness and data collected.
First of all, it is a tool that can be exported to other boats and to any type of gasoline engine, which allows us to make a single expense for a detector that we can later use on other vehicles. This solution can be convenient for those who rent boats, in fact with a single control unit you can monitor the entire fleet, facilitating the cost of fuel to be charged to customers. NaviFlow is based on a flow meter, and is unrelated to any standard. Then there is the ease of installation that takes only 15 minutes, since you only have to connect the flow meter downstream of the petrol pump and feed the control unit with a current from 5 to 12 volts, without having to resort to holes on the console that are always quite complicated and tiring to make. Just fix a simple stand for our smartphone or tablet equipped with GPS and Bluetooth, whether it has Android or IOS; in fact, the NaviFlow transmits through its control unit to our device on which we have installed our dedicated app, an app that allows us to have all the data available.
It is suitable for all those petrol and diesel  engines without electronics.
The data that our control unit will send to our device are really many: the first in importance is the instantaneous consumption provided in Liters Per Hour (L / h) and the average in Liters Mile.  This value is essential to find an excellent navigation set-up and save fuel up to 30%, since, as we well know, each engine has its own optimal ratio between engine revolutions and consumption, NaviFlow allows you to find this ratio and maintain it during navigation. Another significant figure is the consumption in liters per mile (L / n), this value allows us to make an estimate of consumption in advance, useful for planning a trip. Having an estimate of the total consumption made during the year helps us to understand "How much does this boat cost us?"
It is also very useful to be able to save the routes on Google Maps, in order to understand if you have followed a right route without zig zags and have a history of consumption made.
All this in a convenient apparatus of very simple installation and with very low costs.