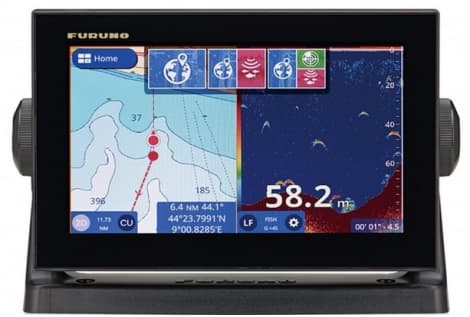 Furuno offers the utmost professionalism even for marine navigations in which it is necessary to know, with extreme precision, the measurement from the surface of the seabed and the exact bathymetrics. very important are the  sonar transducers of the echo sounder that transmit sound waves at different frequencies. If the pulses find obstacles, such as fish, wrecks, or the seabed, the waves  go back to the transducer and are displayed on the screen. Keep in mind that transducers send thousands of sonar pulses per second. Among the four types of transducer, stern, through, indoor and electric motor, the stern one is the most used.  
Speaking of multifunctional cartographers, surely we must mention the GP1971F, an instrument that is also used and in good condition at advantageous prices. It has a 9-inch Multitouch color display and RezBoostTM function.  This function digitally processes the signal with a definition eight times higher than the traditional one. The detection of individual targets near the seabed or in groups is much better than the FDF (Furuno Digital Filter), and is comparable to the performance achievable with the Furuno True Eco Chirp devices. This improved definition has a significant influence on the determination of fish size. To benefit from the RezBoostTM technology it is not necessary to purchase a dedicated transducer, the traditional Furuno probes available in the catalog, or those already installed on equipment of previous generations (FCV620/627 or FCV585/587) are compatible.  For data measurements, sound pulse technology is used. Thanks to the NMEA protocol, several important on-board data can be viewed. Such as flow meters for detecting consumption, or sensors for fuel level and much more. 
Technical characteristics and dimensions of the GP1971F
Power supply : 12/24 V
Channels : 72
Display : LCD COLOR
Integrated sonar : 1
Function : REZBOOST or CHIRP
Built-in GPS : 1
Water resistance : 56 IP
Brightness : 1000 cd/m2
NMEA0183 : 1
NMEA0183 INPUTS : 1
NMEA2000 : 1
NMEA2000 INPUT : 1
Resolution : WVGA 800 X 480 Pixels
Screen Size : 9"
Waypoints : 30 000
Other Furuno Cartographers
There are also products designed to work on a greater frequency range in the Furuno product overview. These tools  bring improvements in the clarity of the signal and above all in the  recognition of what is identified. The different options offer dual, medium and high frequency options. 3D sonar is also becoming increasingly popular, whose characteristics allow to collect precise and extreme quality data. Some examples:
TZT12F Multi Function Display NavNet TZtouch3 12"
TZT16F Multi Function Display NavNet TZtouch3 16"
TZT9F Multi Function Display NavNet TZtouch3 9"
For those who want to increase the level of technology and useful instrumentation on board,  they can do so through the integration of naviflow. In addition to speed, consumption in liters per hour or liters mile is also displayed. Often used, for navigation and sport fishing, is finally the echo sounder with integrated GPS, a way to save space on the boat and always have through the satellite connection, the navigation maps on the screen.
Integrated echo sounder TRUE-ECHO CHIRP and C-MAP
The GP-1971F is equipped as standard with a single-channel TrueEcho CHIRPTM echo sounder module (40 -225 kHz) with 300W/600W/1kW power. There is also C-Map cartography, not to mention compatibility with radar. C-Map is a system of maps constantly updated from multiple sources and checked by experts. The system offers the accuracy of bathymetric signaling of fishing areas not to mention all hazard warnings.
Do you know how many maps and nautical charts exist in the world?
There are more than 6,000 nautical charts worldwide, including vector data and Raster data, for all navigators  who need comprehensive global coverage. The two systems of graphic representation are distinguishable by a very clear difference. Vector data are those that to represent reality, use shapes such as dots, dots, polygons. Rasters are instead composed of cells, basically images, matrices of pixels present that are positioned between horizontal and vertical lines on the screen. Raster data is used in applications when you want to display information that is continuous along an area and that is not easily divisible into vector objects.  Both formats can be used by the most common cartographic GPS and smartphones.
In conclusion, both Raster and vector maps can be imported into the most common cartographic GPS or smartphones. Raster cards provide a lot of information and have a high graphic rendering, while occupying a lot of memory in the devices. 
Vector maps, on the other hand,  are much lighter but in the eyes of the less experienced they can be difficult to interpret.