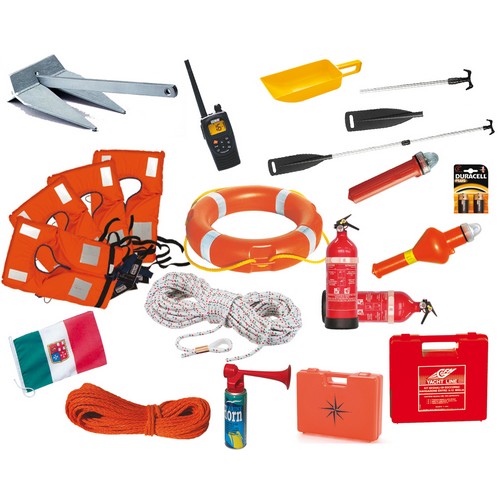 Woe to not be in compliance with the requirements relating to the equipment on board, you risk big. If you do not have the penalty is salty: you can exceed 1000 euros. But it remains a lesser evil than finding ourselves managing unforeseen situations and danger to our lives and our travel companions without safety tools and adequate signage. The kit is mandatory, but it is also recommended to have other localization tools, but also to verify consumption, and changes its composition as the distance from the coast changes.
On-board equipment 2016
Until 2016, on-board equipment was considered as export products. For customs purposes since June 2016 the allocations are no longer considered as such and are exempted on the basis of reciprocity between States from all types of customs duties, excise duties and taxes even if they must comply with customs formalities.
On-board equipment within 3 miles
The list of safety equipment at this distance from the coast is not long, but essential to ensure maximum safety of the people on board. Let's see: 1 life jacket for each passenger; 1 annular life jacket with top; 1 smoke buoy; regulatory lights; 2 red light hand fires; 1 sound signal and means at least one gas horn while for units over 12 meters the bell or other portable sound device is mandatory. With what features? A signal strength of more than 100 db at a distance of one meter. The kit is completed with 1 pump or other exhaustion tool and fire extinguishers for boats not marked "CE".
On-board equipment within 6 miles
To navigate within 6 miles there are 3 more instruments, you must add: 1 light buoy, a second smoke buoy and 2 parachute rockets with red light.
On-board equipment within 12 miles
The set of components that make up the kit is richer, where the coastal life raft capable of hosting and transporting all the people on board must not be missing. The equipment of life jacket for each person on board and the annular life jacket with top, 1 light buoy, 2 smoke buoys to which is added 1 compass, naturally working, and 1 deviation table in accordance with the Maritime Authority (only for pleasure boats), 2 red light hand fires, 2 red light parachute rockets, regulatory lights, sound signal or, for boats over 12 meters, whistle and bell (or portable sound device). Also indispensable is the VHF radio with license and authorized operator and equipped with a certificate. From 16/01/2016 the rule that makes the first aid kit mandatory is in force. The list closes for units without the "CE" mark with a pump or other exhaustion tool and fire extinguishers or firefighting equipment.
What is meant by regulatory lights? In case of daytime navigation up to 12 miles , at least one white light flashlight with batteries is mandatory.
On-board equipment within 12 miles: price
How much does it cost to be in compliance with the norm on on-board equipment and safely? The kits change depending on the distance from the coast and the different assortment determines very different prices. There are complete kits that for distances within 3 and 6 miles you can buy between 100 and 200 euros while within 12 miles you can get to 1000 euros. The on-board equipment in addition to being well functioning and efficient must offer a minimum footprint and must be easy to transport in waterproof and resistant bags.
For those wishing to deepen the subject can consult the website of the coast guard.