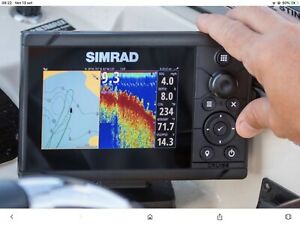 To hear about cartographic nautical gps you can be scared. Quiet. In reality it is simply the marine version of road navigators. Those that we use every day and not only on the car, also accompany us in cycling and walking: from walking to trekking. It is clear that a nautical navigator is more complex and rich in information. To navigate safely and with the right amount of serenity, knowledge and control of multiple variables is essential. Starting with the weather.
All the data in a screen, this is the concept, but materially and in a nutshell what are we talking about? A screen where you can view cartographic maps and our position on these, even dynamically thanks to a system that allows you to load maps. Digital allows us to have more data and information available that are essential for a smooth navigation. Compared to road travel at sea there are more emergencies that must be faced and governed.
What data does the navigator offer us? First of all, our position, where we are at that precise moment and the distance from our final destination, from an intermediate stage, from a fuel supplier, from a danger or from a safety landing. Numbers and measurements, but there are innovative navigators that keep us updated on marine traffic, we get for example the position of each boat that interests us, and very reliable on the weather forecast. To change course and choose the most appropriate navigation. The nautical cartographic GPS is a mandatory on-board equipment for navigation beyond 6 miles from the coast.
A support for navigation
Positioning information is associated with those dynamics that allow us to have data on browsing speed and time necessary to travel our route. In the water it is very important the weather, to know its evolution to avoid dangerous situations. These are the main data offered by gps: location, route, heading vector, bathymetric lines and location of ports and related services offered to boaters. The danger areas are then identified. For example, it is possible to trace a route that avoids rocks and guarantees fast navigation, even in extreme conditions with fog, poor visibility and bad weather.
Which nautical cartographic GPS to choose?
Raymarine nautical GPS
To the menu on nautical cartography Raymarine offers different courses: navigation display. They focus, in addition to the documentary security offered by cartography, on the speed of calculation, it is not a detail, to the high definition of the visualization that can also be three-dimensional with 3D maps to get in the most recent models also to augmented reality. Raymarine offers subscription and upgrade maps to download and 7.9 and 12" Axiom multifunction displays that go beyond the utilities offered by a nautical cartographic GPS.
Marine GPS: Garmin
An alternative to Raymarine products are those signed by Garmin where the ease of use is highlighted also thanks to the touchscreen. The GPSMAP 723 Chartplotter is a system dedicated to all waters thanks to preloaded maps and coastal map. Compatible with NMEA 0183 and NMEA 2000 and the Garmin Marine Network. A versatile system designed for different types of navigation. Starting with the sailing one where environmental data are fundamental.
Used nautical GPS
Take it used? There is a rich market of cartographic nautical gps with different brands, devices, formats and sizes. From displays to be installed to small and easily transportable devices. At your fingertips. What are the elements to take into account? For small formats it is essential to focus on a robust device, impermeable to dust and water, resistant to falls, always possible, especially in navigation. Beyond the casing it is essential to check hardware and software to understand both the ability to load and store maps and the speed of calculation and processing of data.